Come along to one of our free, Come and Try sessions (for ages 17 & over) at Castle Semple Rowing Club Saturday 1st and 8th July 2017. Pop down anytime between 11am and 3pm for an introduction to rowing and a paddle in one of our stable training boats (weather permitting). No booking required.
Learn to Row
If you decide you want to take up the sport we'll be holding a Learn to Row course in July & August (July 29th, Aug 5th and Aug 12th). For further details, or to book your place, email This email address is being protected from spambots. You need JavaScript enabled to view it.
This years Castle Semple Rowing Club Regatta was another great day for the club. Once again our club members and their families did us proud and our volunteers did a fantastic job. We had some challenging conditions in the afternoon but the racing was fierce all day long. For a list of the results from the days racing head over to our Regatta page.
We would like to particularly thank the clubs that came along and supported our regatta with large numbers of entries making sure that once again Castle Semple hosted the regatta with the most races in a single day in Scotland. We cannot run the regatta without our awesome volunteers and we want to thank all of them for once again answering the call and putting in so much effort to make the day a success. Photographs of the winners will soon be uploaded to the clubs Facebook page so be sure to go and check them out and we look forward to welcoming everyone again next year.
We are having a mega clean on Saturday the 17th of December between 10.00 & 3.00. I know it's a bit close to Christmas but if you can spare a few hours to come and help that would be great. There are various squads you can be part of:-
Scrubber Squad
Gutter Gang
Sewing Bees
Rigger gang
Electrical Gang
Boat sprucers
Construction crew
Loft lot
Dogs bodies!
If you fancy one of these put which gang along with your name in the comments.
Thank you in advance.
Rachel
It's the club AGM on Wednesday (30th November) at 7.30pm in the clubhouse. All members are welcome.
We have a few vacancies on the committee which we would particularly like you to consider although all positions are up for renewal.
Firstly we are seeking a new Clubmaster, this can be an individual that is handy with DIY and up for a challenge or someone who is good with making lists and delegating.
We also need a Membership Secretary, this should be someone who can use spreadsheets and be organised, they will work closely with the Treasurer.
We are also looking for a few more skilled people who don't need to be on the committee but could be part of a sub committee. We need someone to look after PR/Media (writing stories of our successes and sending them out to publications) Help with putting in entries and collecting Entry fees and a Social Convener who can help to organise social events to help bring the club together.
If you have any of these skills and are willing to help out please get in touch via This email address is being protected from spambots. You need JavaScript enabled to view it. or come to the AGM on Wednesday.
The CSRC Annual Ceilidh was held on the 26th of November at the McKillop Institute in Lochwinnoch.
Thanks to everyone who came and made it another fantastic club event. Thanks to all those who helped out on the night and well done to our award winners.
Most Improved Adult Male: Ivar Campbell
Most Improved Adult Female: Annabell Craig
Most Improved Junior Male: OJ164x crew of Jonathan Bradford, Craig McFadzean, Aidan Telfer and Ben Bryceland.
Most Improved Junior Female: WJ16 4x crew of Natalie Miller, Molly Barry, Kirsty MacArthur and Ruth McClure.
Coaches Choice Award: Niamh McClure
Andy Dunn Trophy for outstanding Voluntary Contribution: Lesley Afuakwah
It was a brilliant night with a great atmosphere and we also raised over £600 towards club funds.
A good selection from the club travelled into Glasgow to compete at this Saturday's Clyde 3 Heads races. We had perfect racing conditions and our crews didn't let us down. Very greatful to all of the coaches and parents for helping everyone get to the right place at the right time and back again. A particular stand out on the day was our Junior Women's 8+ that competed, the first for many years, who put in a fantastic effort and won WR2 8+ beating 4 other crews.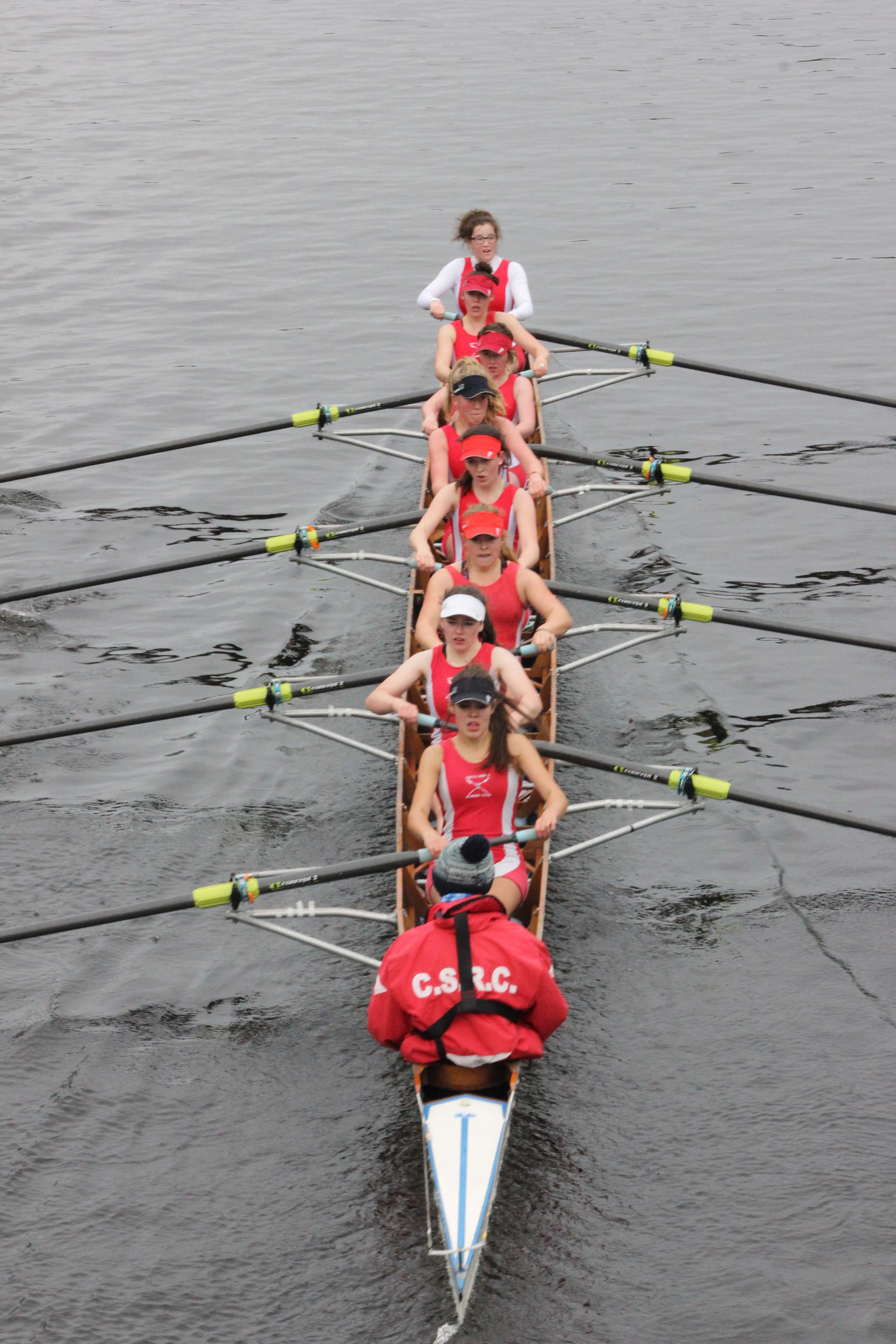 Other winners included Martin Holmes in MVet 1x, Emma McDonald in WOpen 1x, Martin Holmes and Pete Murray in MOpen 2x, Molly Barry and Natalie Miller in JW15 2x, Karen Campbell, Mel Brander, Clare White and Joy Green in W4x.
Full results are now available on Clyde ARC's Website
There are also a number of photo's of the CSRC crews in action on the CSRC Facebook page.
Due to the high demand for taster sessions as a result of the Olympics in Rio we are holding another Come and Try Session on Saturday the 3rd of September from 12 till 3pm.
We would love to see more people come and get 'bitten by the bug' So if are enjoying watching the rowing at the Olympics? Ever wondered what it would be like to have a go yourself? Or perhaps just want to learn more about the sport after seeing the racing in Rio? Whether you're super keen, curious or just want to take a look inside the clubhouse pop in and see us. We are located in the compound just behind the Clyde Muirshiel Cafe at Semple Loch.
No special clothing or equipment needed, life-jackets provided for non-swimmers. Sessions will take place at Semple Loch, Lochwinnoch.
For any enquiries please contact This email address is being protected from spambots. You need JavaScript enabled to view it.
For a selection of photographs from our first two Come and Try sessions please visit our Facebook page
The regatta committee would like to express their gratitude to all of the volunteers and helpers that made the 2016 regatta possible. We would like to thank our members with their donations for the raffle and tearoom, our programme sponsors, the launch drivers, the Scottish Rowing Umpires, the pontoon marshalls, caterers, car park attendants and the swarms of others who step up for some incredibly long shifts. We must also acknowledge the enormous amount of help we receive from Clyde Muirshiel Staff who are not just indispensable on the day but in the days leading up to the event.
We would also like to thank our fellow rowers who have come and supported our event again in huge numbers. We are looking forward to seeing you all again next year.
The Full results for the 2016 CSRC regatta are now available from the Regatta Page.
Check out the CSRC 2016 Medal Winners album on the CSRC Facebook page.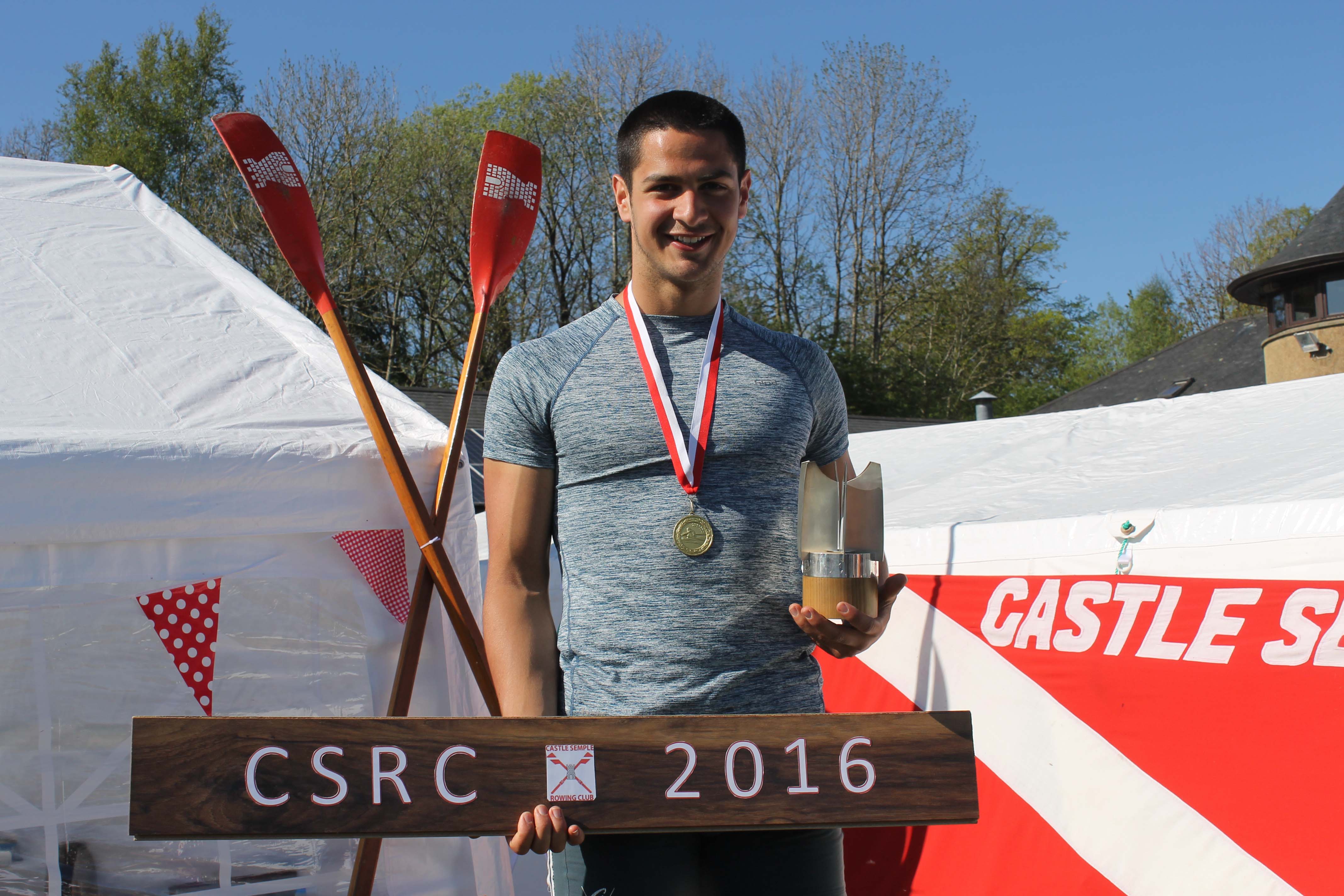 Winner of the Snyder Cup (Men's Open Single Scull) Giacomo Galano
Castle Semple held its first Burns Supper in more than a decade last Saturday night. We shouldn't have waited so long. The evening, held in the McKillop Hall Lochwinnoch was a huge success. Members and friends enjoyed a superb, traditional meal and the homegrown entertainment was of a very high order.
Stuart Slaven took the initiative with the catering and other members mucked in to make sure that everyone ate their fill.
Rachel Robertson, Paul Denholm and Caroline Parker recited Burns and Karen and Ivar Campbell toasted lads and lassies, but the revelation of the night was the music. Steven Conner, on guitar, played a number of Burns hits. Stevie then accompanied Nicola Slaven with a beautiful rendition of 'My Love is like'. The late addition to the programme and another highlight was singer, Louise Hiddleston (Juniors Coach), and talented guitarist, Shaun Lithgow, playing a few well chosen songs. A rousing '500 miles' and 'Auld Lang Syne' ended a very successful celebration.
Thanks to all who chipped in and made the evening run smoothly.
Roll on Burns Night 2017!
This year's Membership Forms are now available. Please make sure you fill in all of the relevant forms and return them to our Membership Secretary as outlined in the Renewal letter.
All members have been emailed details about renewal. If you have not received this email please contact This email address is being protected from spambots. You need JavaScript enabled to view it. so we can add you to our email list and make sure you do not miss important club notices.
Renewal Letter (Please make sure you read)
Membership Form (All members must complete)
Additional Junior Medical Form (One of these forms must be completed for each Junior member)
The table below shows this years fees.
2016/17 Membership Fees
Our membership runs from the 1st of February to the 31st of January each year. We calculate membership fees on a pro rata basis if you join the club after 1st August. Fees can be paid by cash, cheque or standing order, bank details can be found on the membership form. All members must return all relevant forms for their membership to be valid and to ensure all members are properly insured so please get them back to the membership secretary as soon as possible.
| | | | | |
| --- | --- | --- | --- | --- |
| Membership Category | | | | Cost |
| Senior | | | | £190 |
| Junior (16-18 yrs) | | | | £95 |
| Cadet (up to 16 yrs) | | | | £70 |
| Family | | | | £370 |
| Student/Unemployed | | | | £100 |
| Associate | | | | £20 |
| | | | | |
| Rack Rent | | | | |
| Indoor | | | | £110 |
| Outdoor | | | | £55 |
The CSRC Awards were announced at this years Ceilidh. Congratulations to our winners.
| | |
| --- | --- |
| Most Improved Senior Male | Steve Conner |
| Most Improved Senior Female | Mel Brander |
| Most Improved Junior Male | Craig McFadzean |
| Most Improved Junior Female | Natalie Miller |
| Andy Dunn Trophy | Mel Brander |