The Castle Semple Rowing Club AGM was held on Wednesday the 18th of November at the Clubhouse. Thanks to all the members who attended.
The proposed fee review was accepted by the membership so there will be changes to the fee structure for next year, emails will be sent with membership renewal information near the end of the year.
The new committee was appointed and incoming President Graeme Fletcher will take over the reins immediately. More information about the new committee will be available soon.
We look forward to seeing lot's of members at the Clubs Annual Ceilidh this Saturday (28th November) Tickets are still available from Jo, tickets are £14 for adults and £8 for juniors and students.
A couple of important events are coming up.
24th November - The Club is being formally awarded the Queens Award for Voluntary Service. Emails have been sent to club members inviting them to attend. Please RSVP to This email address is being protected from spambots. You need JavaScript enabled to view it.. Also email the Captain if you have not received the invitation and would like more information.
28th November - The annual club ceilidh is being held at the McKillop Institute in Lochwinnoch. Tickets will be available from Jo soon, look out for the posters which will be going up at the club. If you want to get your order for tickets in early email This email address is being protected from spambots. You need JavaScript enabled to view it.
Good Luck to Martin and Andy Holmes who are competing this weekend in Boston USA. They have travelled to Boston to compete at the 51st Head of the Charles Regatta and to try to retain thier title in the Dirctors' Challenge Parent/Child Doubles. Martin and Andy have won the event for the last 2 years and we will be keeping an eye on the HOCR Live Stream at 9.43pm UK time today (Saturday).
Well done to Emma and Laura McDonald for their selections and performances for GB this summer.
Big sister Emma was selected as the Lightweight Women's spare for the GB Under 23 team that competed in the World U23 Championships in Plovdiv, Bulgaria. Emma rowed in the Women's Lightweight spares single scull race and finished in 3rd place.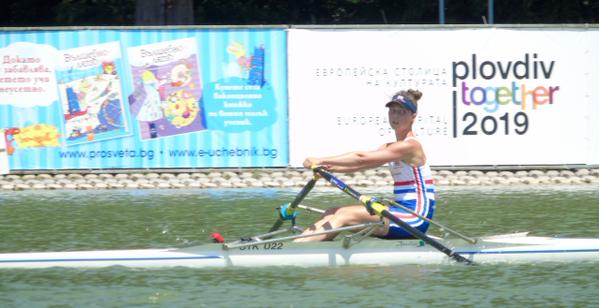 Laura was part of the GB Team to compete at the Coupe de la Jeunesse which was held in Szeged, Hungary. Laura was selected to row in the Women's double scull with Erica Holmes from Marlow RC, they came 5th during Saturdays race and 4th in Sundays race. The Junior women won the Victor Ludorum trophy at the event with all of their crews finishing in the top 5 in their events.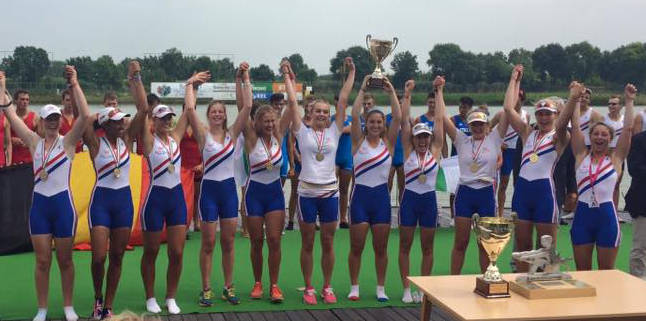 Many congratulations to club member Gavin Horsburgh who this weekend became a World Junior Champion.
Gavin was a member of the Junior Men's Quad at the World Junior Championships in Rio de Janiero which took place on the 2016 Olympic rowing course. Gavin and his crew, which also featured Glasgow Academy team mate Josh Armstrong along with Chris Lawrie (Sir William Borlase's School) and Sam Meijer (Westminster School), came through two tough rounds to reach the A final. In the final they were sitting in 5th place through the 1000m mark and had a huge second half to row through all of the other crews and take the title. Gavin has written his name in the record books as part of the first GB men's quad to win a World rowing title in any age category.
Castle Semple Rowing Club is proud to count 2 Junior World Champions amongst it's members and we wish Gavin lots more success in the future.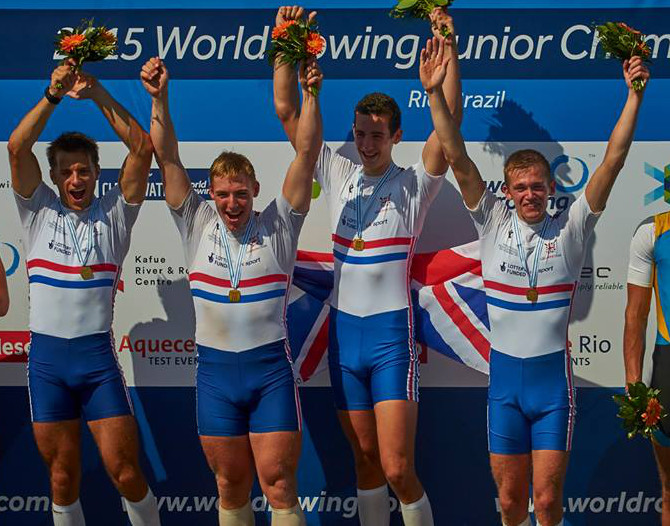 Photo taken by Gavin Lawrie
We hope all of the juniors have been enjoying their Summer Break. The first day back for Junior sessions will be Sunday the 9th of August. We look forward to seeing you back nice and fresh and rejuvinated.
Can all juniors make sure they have completed the Survey Monkey that Lesley sent out so that the coaches can establish who will be attending which midweek session. Surveys should be completed by Wednesday at the latest! If you have not received a link please contact Lesley as soon as possible.
We are pleased to announce that Castle Semple Rowing club has won the Queen's Award for Voluntary Service. It is a matter of pride for the members that it is the first rowing club in Scotland to achieve this prestigious award. The club is a registered charity run entirely by volunteers and they are all delighted at the recognition that this MBE equivalent award represents.
Scottish Charity Castle Semple Rowing Club (CSRC) prides itself on being a community and family focused club. The volunteers work hard to provide an opportunity for anyone, young or old, able bodied or with disabilities to participate in the sport of rowing. They believe that rowing is not only a fun and physically demanding activity, but that joining a club like theirs should provide members with an opportunity to build lasting social networks and develop skills they would not otherwise have.
Despite its broad focus club members have achieved high levels of success over the years in regional, national and international rowing events: these include a Silver for Scotland in the 1986 Commonwealth Games; Gold for GB in the 2009 World Junior Championships, 3 Golds in the 2010 Commonwealth Rowing Championships and one Gold and two Bronzes in the 2014 Commonwealth Rowing Championships with a 16 year old member achieving Gold in for GB in the annual GB/France match. Many of the clubs young performers go on to join other clubs but CSRC still sees them as part of the family and is immensely proud of them.
The annual regatta held at Castle Semple Regional Park this weekend was a great example of the club's philosophy. This huge event, the largest single day regatta in Scotland - over 130 races running over 10 hours, is entirely run by club volunteers. The park was buzzing. "It's the friendliest regatta in the calendar" said one race goer from the North of Scotland. While the next generation of GB hopefuls were testing their skills against challenging water conditions, club members of all ages were keeping the event running smoothly. Club coach and committee member Caroline Parker said "it is particularly heart-warming to see former junior members, now in their early twenties and perhaps no longer racing still participating fully as coaches, pontoon marshals, umpires and launch drivers, a real example of sustainability in club sport." The club's approach is seen as an example of good practice by national sports governing body Scottish Rowing who recently awarded it their new kitemark Grow2Row accreditation certificate.
Caroline Parker and Lesley Afuakwah, CSRC's Head Junior Coach will attend a garden party at Holyrood on 1st July where they will meet the Queen and other winners of this year's award.
Castle Semple Rowing Club is one of 187 charities, social enterprises and voluntary groups to receive the prestigious award this year. The number of awards handed out to groups have increased by over 60% from 2014, due to an increase in high quality applications, showing that the voluntary sector is thriving and full of innovative ideas to tackle community challenges.
The Queen's Award for Voluntary Service is the highest award given to local volunteer groups across the UK to recognise outstanding work in their communities. The awards were created in 2002 to celebrate the Queen's Golden Jubilee and winners are announced each year on 2 June – the anniversary of the Queen's Coronation. Award winners this year range from Ablaze, a charity helping to raise academic achievement amongst disadvantaged young people in Bristol to a volunteer rescue boat service on Loch Lomond.
Castle Semple Rowing Club will receive the award from the Lord Lieutenant of Renfrewshire later this summer. Ivar Campbell, the club's President said "we are delighted that the fantastic work of our volunteers has been recognised in this way and would like to take the opportunity to encourage anyone in the local area who has an interest in volunteering and would like to get involved in the club to get in touch via our website"
The Queen's Award for Voluntary Service Committee Chair, former broadcast journalist Martyn Lewis CBE said:
"I warmly congratulate all of the inspirational voluntary groups who have been rewarded for their community work with a Queen's Award for Voluntary Service. The judging panel for this year's awards were struck by the quality and breadth of all the successful groups. The thousands of volunteers who give up spare time to help others in their community and to help solve problems demonstrate the best of democracy in action."
Minister for Civil Society, Rob Wilson, said:
"I would like to congratulate all groups who received this year's Queen's Award for Voluntary Service, in recognition of their fantastic achievements. .The hard work and commitment that goes into the work of these organisations is surpassed only by the passion and motivation of the individuals who volunteer. I hope these groups continue to inspire others to get involved and make a positive impact so that we can continue to build a bigger, stronger society."
Lesley requested a new page be added to the Website. She rightly pointed out that we should be making sure we keep a record of the good performances of our racing crews at regattas. So check out the list of our best results at regattas this year on our new Club Results page. You can find it under the ClubHouse Tab at the top of the page. If you think any results are missing then give me a yell using the This email address is being protected from spambots. You need JavaScript enabled to view it. email address.
Strathclyde Park Regatta takes place this weekend and it's good to see so many crews taking part. Boat loading starts at 5pm tonight (Friday) so please come down to the club as soon after 5 as you can.
I have created a copy of the draw with the races featuring CSRC crews and I would encourage members not competing to come over to Strathclyde Park to support the racing crews.
Good luck to everyone competing over the weekend.
This year's CSRC regatta takes place on Saturday the 30th of May. The Provisional Draw is now available over on our Regatta Page.
Entries must be made using our entry forms and the closing date for entries is 9pm on Thursday 21st May.
Our organising team is now looking for volunteers for all regatta tasks. We ask that all members (and family) put themselves forward to help out to make this year's regatta another great success. If you have a particular job you would like to do please talk to the person in charge of the area you want to help in. The leads for the areas are:
| | |
| --- | --- |
| Lead | Area |
| Ivar Campbell/Graeme Fletcher | Land based operations |
| Bill Hiddleston | Water based operations |
| Kirsteen Lyth | Catering |
| Jo Pinder | Race Control/Bow Numbers |
| Janice Hiddleston/Mel Brander | Hospitality |
We have lots of different roles on the day and can use all of the hands available so please keep the day clear and come down to help out the club.
Our membership runs from the beginning of February to the end of January each year so fees for 2015/16 are now due. 
Our form has been simplified this year to make your life easier, please complete it all and return it to the address on the letter or post it in the committee postbox in the clubhouse. Forms must be returned by the end of March 2015 to ensure members are covered by the clubs insurance, delays in returning the form may result in members being unable to use the club equipment after this date. In the case of a family membership only one form needs to be returned. Please ensure when you return the form you tell us how you are planning on paying for your membership.
Please also consider supporting the club by taking part in the 100 club, the form is attached. The 100 club is a fantastic way of raising money for the club while offering the participants the opportunity to win £25 or £100 a month.
The club is also looking at the possibility of purchasing some new equipment using sportsmatch. This is a fund managed by sportscotland that matches donations from commercial businesses for clubs such as ours. If you know of a company that might be interested in sponsoring us in this way please talk to a member of the committee.